Subscribe now via your favourite podcast player from the direct show links on our Podcast Page. Available on Apple Podcasts, Spotify, Stitcher, Overcast, TuneIn, amongst many more.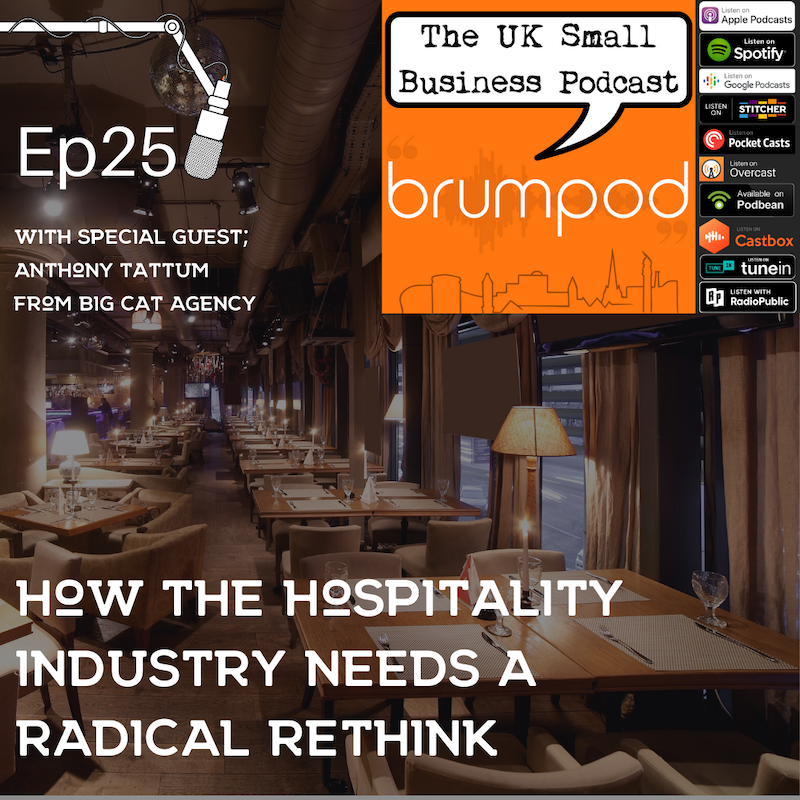 With special guest: Anthony Tattum from Big Cat Agency.
In this episode, we talk to Anthony Tattum, CEO of Birmingham based creative agency, Big Cat; one of the leading marketing agencies in the Midlands – who this year are celebrating their 20th anniversary. They've incidentally just had a big rebrand and new website for you to check out – link below.
We discuss how, in a post-COVID world, the hospitality industry needs a radical rethink in how they operate, to optimise earnings and efficiency, given how there will be so many restrictions for months to come.
Many businesses have managed to adapt really well through lockdown, operating in a different capacity to what they're used to, by offering additional or amended services; takeaways, produce boxes, meal kits etc. Something which has been near-essential to survive.
Anthony gives some brilliant advice and case studies of successful businesses' transitions, and how YOUR business can replicate some of these ideas to survive and thrive in the months and years to come.
Here's where you can find Anthony:
Listen to the full episode using the player below.