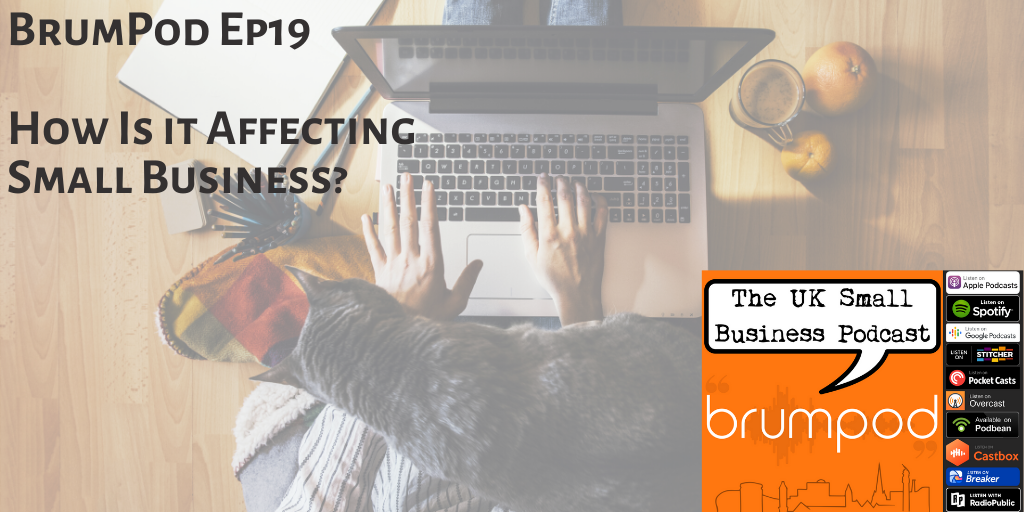 In this episode we're (unsurprisingly) looking at Coronavirus (COVID-19) and how it's currently affecting small businesses. With so much fear and worry in the world right now, small businesses are having to think on their feet, adapt quickly, and do what they can to survive through this period of uncertainty.
The hospitality industry is a particular worry, as the government tell the public we should be refraining from visiting bars, pubs, clubs and restaurants. So many are now turning to offer takeaways and collection/delivery services, in order to get through this period of otherwise having very few customers through their doors.
We also look at the government's advice and support plans to aid businesses through this, and look at how some businesses may not be insured for this crisis – check your policies now to see if you may be affected should you need to claim for business disruption etc.
Plus we're looking at the concept of much of the UK working from home in self-isolation and for many what feels like quarantine. We mention a whole load of tools and platforms that might be of use in order to maintain business continuity and communication with your team members and customers, via methods like Zoom, UberConfererence, Slack, Skype, Microsoft Teams etc.
If you're affected by COVID-19, our thoughts are with you – hope you feel better soon, and that you can get back to a normal life and business routine.
We're all in this together folks; so let's be kind and help each other.
Links to items we discuss during this episode:
https://www.creativebloq.com/advice/coronavirus-remote-working?utm_source=Selligent&utm_medium=email&utm_campaign=15321&utm_content=170320_JM+&utm_term=698507&m_i=Imr0%2B%2BUEkj2hdPHZJiSgAytjmUyqsuZDWuXsVTfHfX9kT%2BYtxV9u_QTpXgZGaNtY4FHPjAgPsSrvHfxgwawys2TjZW%2BBnuIIIz&M_BT=244063946052
https://www.theregister.co.uk/2020/03/16/bt_broadband_network_wfh/
https://www.ft.com/content/ff00ec96-6481-11ea-b3f3-fe4680ea68b5
https://www.abi.org.uk/news/news-articles/2020/03/abi-comment-on-coronavirus-and-commercial-insurance/
Full Episode Listen Now