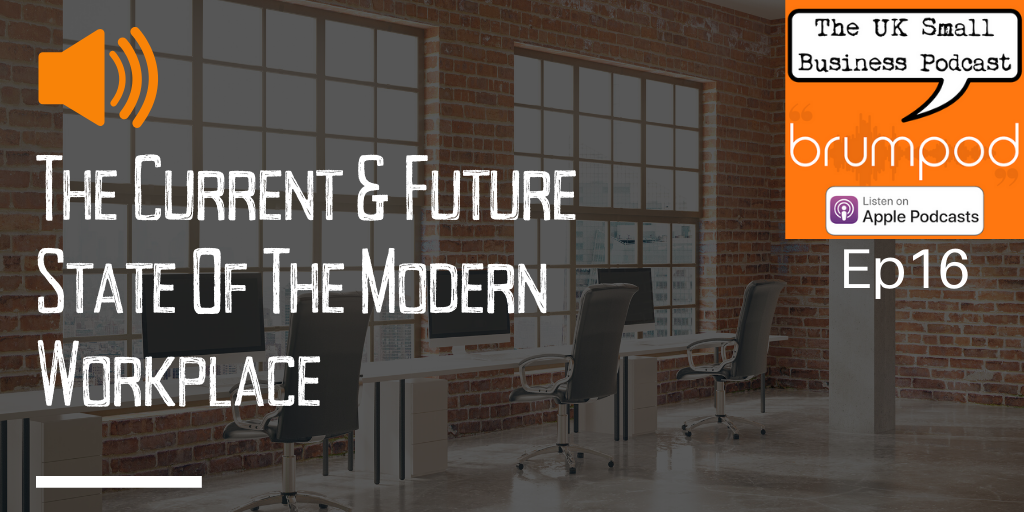 To listen and subscribe, please click here to visit our Podcast Page which contains direct links to our podcast on all the major podcast platforms. Or click the image above.
In this episode of the podcast (25mins) we look at the current and future state of the modern workplace, what a 'workplace' even consists of in this technological age. So many business folk can get on perfectly well with just a laptop, a phone and a decent broadband connection.
Are traditional offices still as popular as they were with the idea of 'hotdesking' becoming more of a thing? More and more people are working flexible hours, remotely from home or coffee shops without feeling the need to be in an actual office.
What will the future workplace be like? Will more of us work remotely and feel less need to commute? What happens to teamwork? What about when you're working on sensitive client material, what type of location would be better? We discuss one particular horror story.
If 5G and web technologies enable more of us to work flexible hours and in non-office based locations, will we miss out on the social aspect; the water cooler moments, gossip, relationship building, etc etc? Also we look at all of this and how it impacts the area of mental health, and obtaining a healthy work-life balance. We weigh up the pros and cons.
Episode resources referenced in the show:
http://blog.condecosoftware.com/state-of-the-workplace-in-2018-report
https://www.workfront.com/blog/state-of-work-2019
https://www.forbes.com/sites/abdullahimuhammed/2018/12/21/10-remote-work-trends-that-will-dominate-2019/#1db7fdb7c72a
https://www.talentlyft.com/en/blog/article/161/7-key-workplace-trends-in-2019