Subscribe now via your favourite podcast app from the direct show links on our Podcast Page. Available on Apple Podcasts, Spotify, iHeartRadio, Stitcher, Overcast, TuneIn, amongst many more.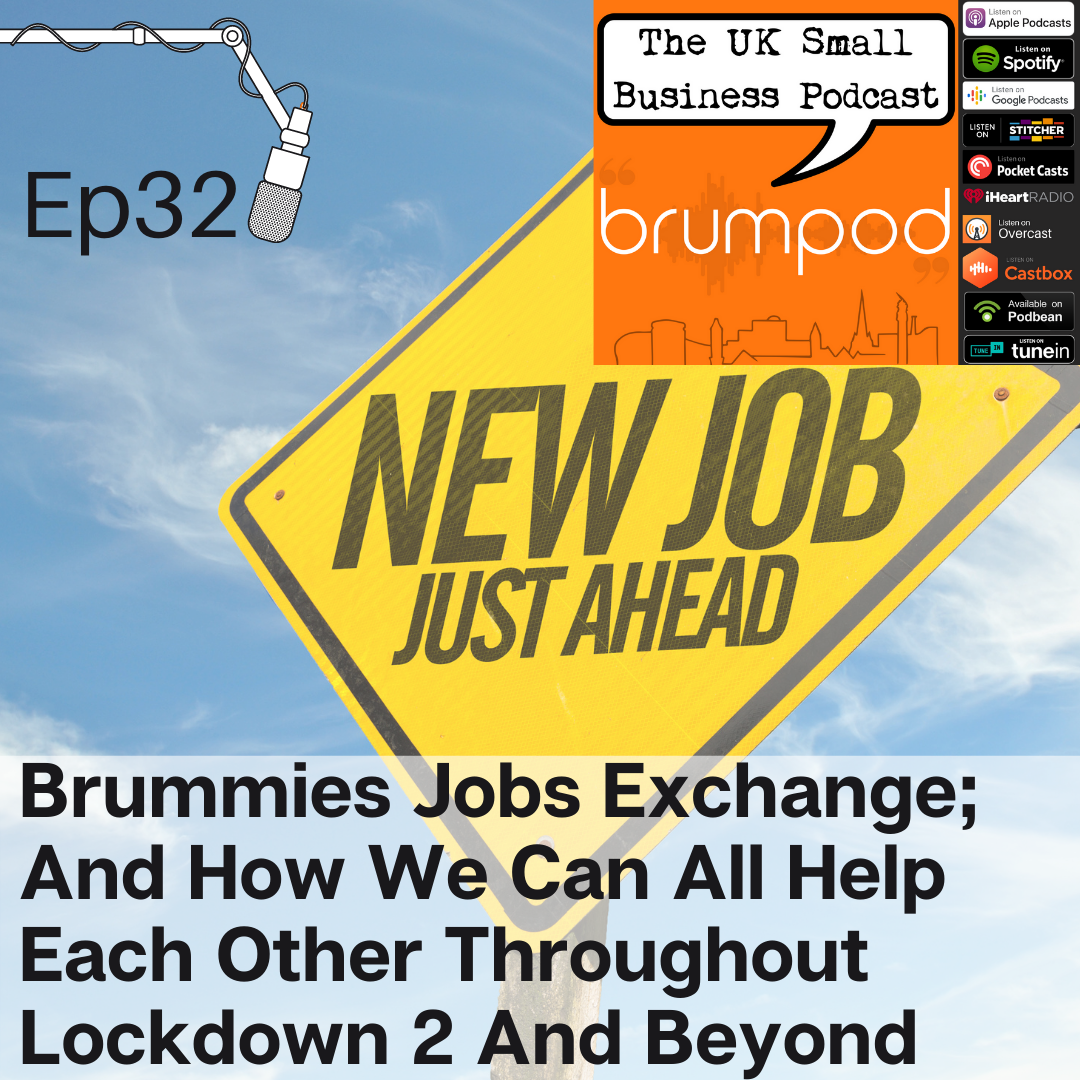 In this episode, we're launching a new initiative, the 'Brummies Jobs Exchange' – our way of helping to link up people who are either seeking new employment if they've say been made redundant due to COVID19 etc – or indeed if you are a company who have roles available looking to be filled, we want to try and help you fill them.
This isn't a commercial venture, and we're not acting as recruiters – we are simply helping provide a platform and an audience via our Brummies Networking LinkedIn Group, website and social media channels. (All links below).
We encourage everyone to be on the lookout for these types of posts, and we'll be encouraging every post we see to be posted also in our LinkedIn group so it acts as a hub, where you'll hopefully be able to link yourselves up with each other, to help each other out as best we can.
Create your job seeker/job available posts in the Brummies Networking LinkedIn group, by starting it with 'CAREER' at the start, to make it clear and obvious; and hopefully then you'll get some interest and assistance from fellow members.
Especially important during these trying times, with the impending Lockdown 2 now coming into effect.
(Lockdown 2 was mentioned during the episode, & was only confirmed by Parliament post-recording)
We also encourage you to submit your guest blogs to us which we can promote on the website. A further bit of self-promotion for you.
And please do make use of our Speakpipe page where you can send us your business elevator pitches in audio form, which we can incorporate into future episodes. Max. 30s or so, keep it brief, to the point; who you are, what you do, how you can help, what sort of clients you're looking for – you know the drill.
And remember, we're also running our weekly Twitter hour every Tuesday 11am-12 – just use the hashtag #brummiesbizhour to join in; and like the above, post your promos, what you do, how you can help, the types of clients you're looking for etc.
We're all in this together folks, so let's all do whatever we can to help each other out as best we can, especially during these precarious times we're living in.
LINKS
Brummies Networking LinkedIn Group
Send An Audio Promo Via SpeakPipe