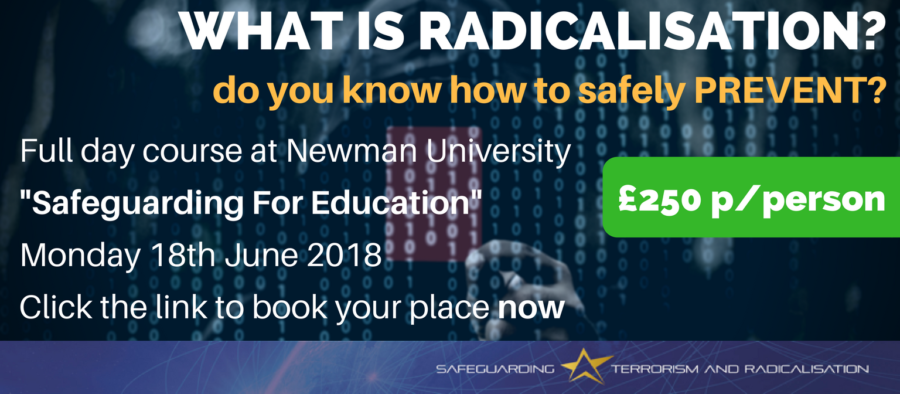 Brummies Networking member Jangeer Kayani is organising a full day workshop event at Newman University on Monday 18th June 2018.
This event will give you practical real life advice to help you combat extremist concerns in your establishment
,
as well as complying with the Prevent Duty which is now Statutory and must be adhered to. Dont miss this opportunity to get face to face with a team leading the way in Safeguarding and Prevent.
Jangeer is a retired Detective Inspector, who managed a dedicated team of officers working on Prevent and Channel within the West Midlands Counter Terrorism Unit. He was also the regional strategic lead for Channel across four police force areas.
He was heavily involved in all of the terrorist cases in the West Midlands from 2008, meeting family members, community members
and
businesses those extremists worked in, and can share the significant impact on all those affected by the arrests; as well as talking through how those individuals changed from decent law-abiding members of the public to hate-preaching extremists that changed in a significantly short period of time.
Along with
his colleagues
from different
working
backgrounds
, all of whom have many years real-world experience in their respective fields, this is a perfect opportunity to learn from experts who will focus their teaching using real-life cases and scenarios, not just theory.
You will have ample opportunities to discuss issues with the speakers.
Experts in the field have designed this unique advanced workshop in line with the government's Prevent Strategy. The workshop will help equip you and your organisation to manage issues relating to safeguarding, extremism and radicalisation, and comply with the Prevent Duty.
The workshop will cover a variety of key topics including some of those listed below:
• Safeguarding, updates, lessons learned.
• Online Safety with Safety Net, the key issues.
• Your responsibilities under Prevent Duty
• What you and your organisation MUST do
• Discussing an extremist's journey
• Teaching and Learning Academy input to embed strategies via continuing professional development.
We have designed this workshop to share learning
and facilitate the effective implementation of Safeguarding strategies in accordance with the Prevent duty.
There will be opportunities to discuss issues with the presenters.
Lunch and drinks
are
included
as well as free on site parking.
Click here for the event portal to book your place.
Download the event flyer containing more info by clicking the image below.