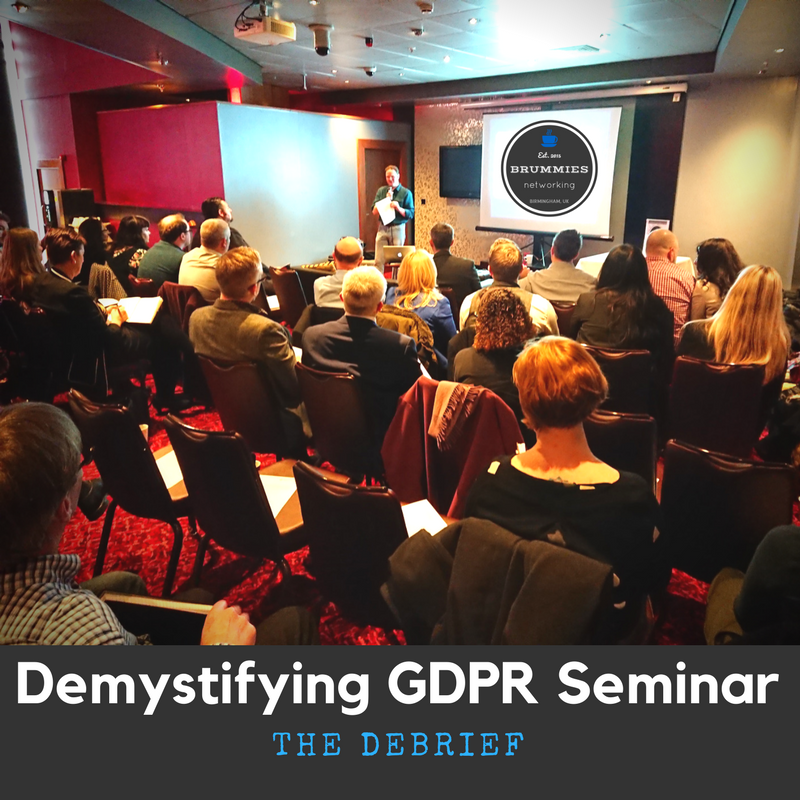 Brummies Networking has evolved over the last few years into, what we think, is something a little bit special. (Although I may be slightly biased of course).
From humble beginnings, with our first ever meeting (back then under a different name, & the unloved cousin of other events) attracting just 13 people! We've now become one of the premier business networking events people want to go to each and every month, with more and more people recommending us to others online! This was especially true this month, as February's Brummies' meeting broke a new record, with 95 people in attendance! A new milestone for us as a group; and we thank you for making Brummies what it is.
And yesterday marked yet another new milestone for Brummies Networking, with us hosting our first ever seminar event.
As many of you will know, we've been starting to broach outside of our normal routine over the last 12 months, by laying on additional networking events to our usual monthly, with a late lunch in a pizzeria, a cocktail evening, a quiz night, officially being able to organise the proverbial in a brewery, with many more different things to come this year and beyond.
However, yesterday's seminar event was something very new for us. It involved a subject that is an absolute key topic on everyone's lips, so we thought it important that we organised some sort of event that would help our members be fully prepared for it. And thus, the Demystifying GDPR seminar was born.
There were around 40 people in the room, with Scott Taylor from eBit Consultancy giving the presentation on how to prepare for the upcoming regulation changes and the importance of data protection, with practical advice on how we can make sure we're all compliant.
We were thrilled with all the feedback we received on the day, and subsequently via our Twitter and LinkedIn accounts, which was overwhelmingly positive; with attendees feeling that it was really helpful and of great value to their businesses to aid them in making the necessary protocol changes.
GDPR is an absolute minefield topic; and we should know – because the Brummies Networking leadership team has spent the last several months researching it to make sure we as a networking organisation remains fully compliant ongoing. It was clear to us many months ago that the new regulations are all about giving maximum control to individuals, and making sure that we know that you, our members, want to hear from us via email.
It involved having to completely start our database from scratch, to ensure that every single subscriber to our mailing list is on there via unequivocal double opt-in subscription; meaning that you are on our database by choice, because you want to hear from us, whilst also giving you the right to remove yourself from our database at any time. Our privacy policy goes into more detail about this should you wish to learn more about how we use your data.
With so much (often unsolicited) email filling our inboxes each and every day, it was imperative that we didn't ever fall into the category of 'unwanted' or, dare I say it, 'spam'! So whilst it was a slight faff for all of you who want to hear from us to re-subscribe to our new mailing list, I'm sure you can see that ongoing, it was the best thing to do for us, and for you.
For all who attended our seminar yesterday you would have had the paper handouts on your chairs, but in case you've lost them, feel free to download a PDF version by clicking on the below image.