BrumPod030: Decoding The Winter Economy Plan with Alistair Hayward-Wright
Subscribe now via your favourite podcast app from the direct show links on our Podcast Page. Available on Apple Podcasts, Spotify, iHeartRadio, Stitcher, Overcast, TuneIn, amongst many more.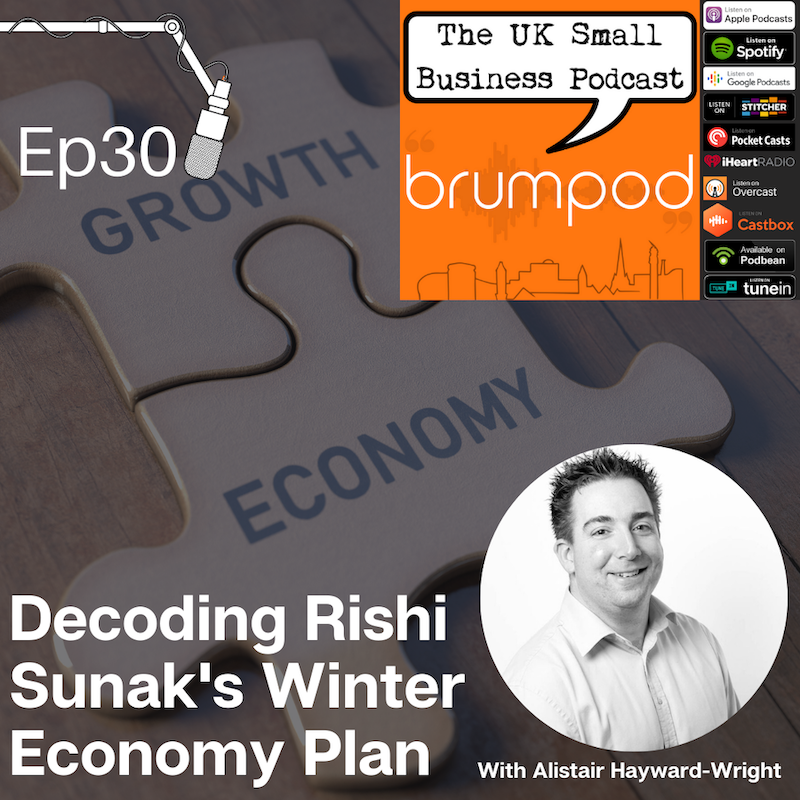 In this episode, we're talking to Alistair Hayward-Wright, from Hayward-Wright Accountancy Group, who helps us to decode and decipher Chancellor Rishi Sunak's Winter Economy Plan, the scheme that will replace the furlough and SEISS grant payments ongoing.
It's been an incredibly tough time throughout COVID-19 for all businesses, both the self-employed and those who are salaried. With numerous inevitable redundancies being mentioned on LinkedIn and beyond, now is the time to really focus on future plans to ensure your business stays afloat, and ideally, thrives as best it can.
There are now several changes afoot which business owners will need to become familiar with, as it will affect all employees and the amount of hours they'll need to work before the scheme takes effect – a process that is quite different to the current furlough scheme.
Likewise for the self-employed, the SEISS grants are, in some fashion, being extended; but with a lesser amount being paid out than before – so for many, it may be a slight top up to your income, but perhaps not much more than that. Therefore, lots of preparation and planning is key to ensure you stay ahead of the game.
So, if you're like us, and trying to get your head around all this information isn't exactly bedtime reading – then tune in, as thankfully Alistair will lead us through it bit by bit to hopefully make it a little simpler to grasp.
Where you can find Alistair online:
https://www.haywardwright.co.uk
https://www.linkedin.com/company/hayward-wright/