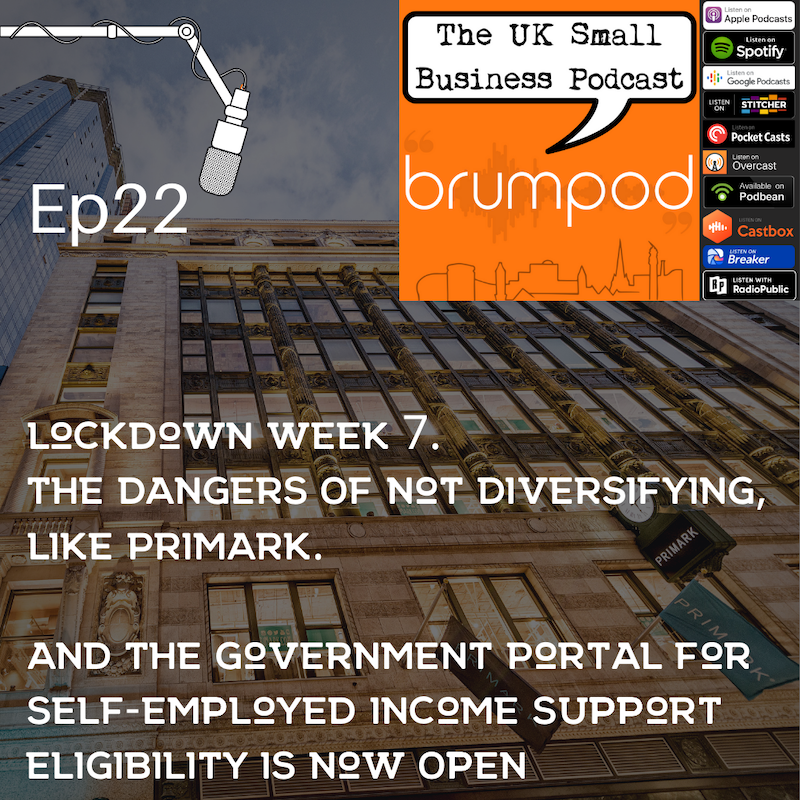 Subscribe now via your favourite podcast player from the direct show links on our Podcast Page. Available on Apple Podcasts, Spotify, Stitcher, Overcast, amongst many more.
We're now in Week 7 of Lockdown here in the UK. We chat about how things have changed, and where things might be going once Lockdown is lifted.
Will businesses still flock on their normal commute into city centres? Or will there continue to be more working from home? Big businesses to scale down their operations to maintain smaller centralised hubs? It would make sense maybe.
Our main topic is about the dangers of businesses not diversifying – with Primark being the prime example in recent days, them having ceased to make any money overnight since Lockdown went into effect. From £650 million in sales per month, to £0. Why? Because they have zero e-commerce or m-commerce systems in place, they are 'bricks and mortar' only.
So what would your business do if ever faced with this again? Have you come up with ways you can diversify? If you haven't, it's well worth taking a look at again. Always better to be prepared for any eventuality. We take a look at some great examples, in the form of some pizza and beer companies. What's not to like?
ALSO – the Government portal for registering and for checking your eligibility for the self-employed income support is now live. We chat briefly about that, about how nice and easy it is to do. If you're self employed, please do check it out and see if you're eligible. They will then contact you in due course when it's time to make your claim. Here's where to see for yourself:
https://www.tax.service.gov.uk/self-employment-support/enter-unique-taxpayer-reference
Resource referred to in the episode re. Primark: